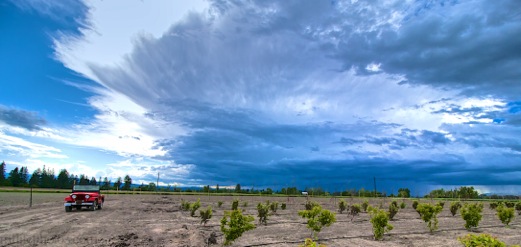 "We want to see our land in the Flathead Valley stay agricultural. We enjoy farming and love to grow trees. we want to produce a high quality product that will add joy and value to your landscape for years to come."
Rose Creek Nursery is a family-owned and operated wholesale supplier of field grown B&B trees and landscaping materials in Bigfork, MT.  The trees and shrubs are grown on 18 acres of our farm where we have been producing hay and grain since 1982.  Our prime Creston soil produces exceptional products with outstanding root growth. We established Rose Creek Nursery on our farm in 2015.
The Flathead Valley is rural with a large agricultural community.  Rose Creek, which is a tributary to Flathead River and Flathead Lake, runs through our property and provides much of the water for our farm. 
As lifelong Montanans, we are proud of agriculture's contribution to the local economy. We are truly passionate about growing trees and shrubs.  Once the decision was made to get into the tree business, getting it right was a top priority. We enlisted the help of top industry professionals to ensure we could produce high quality products.  The knowledge and experience shared got us off to a great start.  We are committed to providing products suitable for landscapes across Montana and Canada. Our goal is to give personalized service to every customer and we are open to discussing custom growing to meet your needs.
If quality, service, and value are priorities in your purchasing decision, then partnering with Rose Creek Nursery will give you the results you deserve. 
Bo Holst
Born and raised in Montana, I have been in agriculture and vegetation/land management business most of my life.  I have always had a great interest in trees so it was a natural progression to open Rose Creek Nursery.  There is a lot of hard work involved in producing hardy, sustainable products but it has been equally rewarding to see the growth in the past 2 years.
Lisa Holst
Born and raised in Frenchtown, MT, I moved to the Flathead Valley in 1993 and raised my children on our farm in this beautiful Big Sky country. I worked with my family in our locally owned businesses, Missoula Cartage and Triple W Equipment.  I have now shifted my focus and energy to working in the nursery with Bo. I am enjoying the challenge of learning about our trees, researching new species for our area, and creating a great product as we launch into this new venture. 
Josh Peters
I am a 5th generation Montanan, born and raised in the Flathead valley where I am now raising my own family.  I started working at a local nursery in high school and have since moved on to help build Rose Creek Nursery.  I have over 20 years of experience in the nursery field from cuttings to sales to landscaping.  I have a passion for the business and building this nursery to its fullest. 
Dennis Brosten
Dennis Brosten, Horticultural Consultant, has an M.S. in Plant Pathology and a B.S. in Landscape Horticulture from Montana State University.  He started working at a Helena nursery in 1969 selling trees adapted to harsh winters.  He has written more than 60 feature articles on agricultural science for Farm Journal, Agrichemical Age, Columbia Basin Farmer and other publications. Dennis is a technical advisor and friend of our nursery.